Featuring everything from the best of "backstage" to the fashionable garden reception, this is our view of Maike Belderok's wedding.
Maike is a fashion model and a blogger (http://klussenophakken.com/) and from the very first emails she sent one thing appeared to me immediately clear: she wished to feel like a princess in her wedding day!
She chose Lake Garda as frame of the catholic ceremony of her dreams.
The research of the church was not so easy at first and I can say that the help of a Wedding Planner can be crucial especially in the case of a Catholic ceremony; There are some more practices than a civil ceremony and also sometimes relationships with priests require a bit of sensitivity.
Found the perfect church overlooking the lake that remained was to realize the dreams of this modern but romantic princess like a bridal bouquet of small white flowers (Kate Middleton style), a carriage drawn by white horses and a castle by the lake for a garden dinner …but first things first!
Relaxing time on Lake Garda
Before to fully immerse in the excitement and thrill of the wedding day, Maike and her husband to be Vinod chose to take time out and de-stress in an elegant hotel with Spa on the lake.
To take some time, decompress and prepare yourself for the amazing day that's coming should be a rule and for sure it's the best prelude to a fantastic wedding day!
So this could be a tip for all future brides, find a spa in your area that offers a day package (some even offer special bridal packages), sign up for treatments that you love or have never tried before, and enjoy a day of total relaxing indulgence. This will leave your skin and soul positively radiant.
So it was for Maike and when the wedding day finally arrived each detail was already defined in total relax! Our team took care of last minute questions and logistics ensuring that things run smoothly.
Maike could quietly spend the early morning getting ready with her niece and flowergirl, the inseparable chihuahua Beertje and her make-up artist.
Getting ready with lake view
First of all Maike prepared the getting ready outfits for her and her sweet flowergirl, with all accessories, shoes, bridal veil and a delicate wreath of white flowers created by our talented florist.
And just like Maike we suggest to dedicate time to this particular moment of the getting ready. The wedding dress is one of the most important and irreplaceable aspects of your wedding. You'll want to be sure that there is nothing wrong with it and also that it still fits the way you want it to! So try on your entire wedding day outfit together with calm and in advance so that if there are any last-minute alterations that need to be made, you'll still have time to do so.
Preparations for the big day may be fun and a great quality time with your flowergirl! Lovely Maike's niece shined in her role, and we're sure she remember that day with joyfulness.
Maybe with some butterflies in her little stomach, it probably was her first big day in spotlight, but she was smiling and gracious while distributing flowers down the aisle before Maike entrance.
The Wedding celebration
After the involving wedding ceremony accompanied by a string quartet Maike and Vinod took the horse carriage to reach their guests at their hotel for a lunch with a champagne cascade on the lakeside.
For a fashion model like Maike a photo session in the gorgeous gardens of the hotel was a must, just few special moments for bride and groom before the party started at night!
And where the wedding reception could take place if not close to a crenellated tower on the lake?
Maike and Vinod arrived by boat at the small pier under the ancient tower, reaching their guests waiting in the lash garden.
The reception started with a rich aperitif on the lake and a superb buffet with a view preparation of same dishes and continued with a romantic candlelight garden dinner.
Real wedding gallery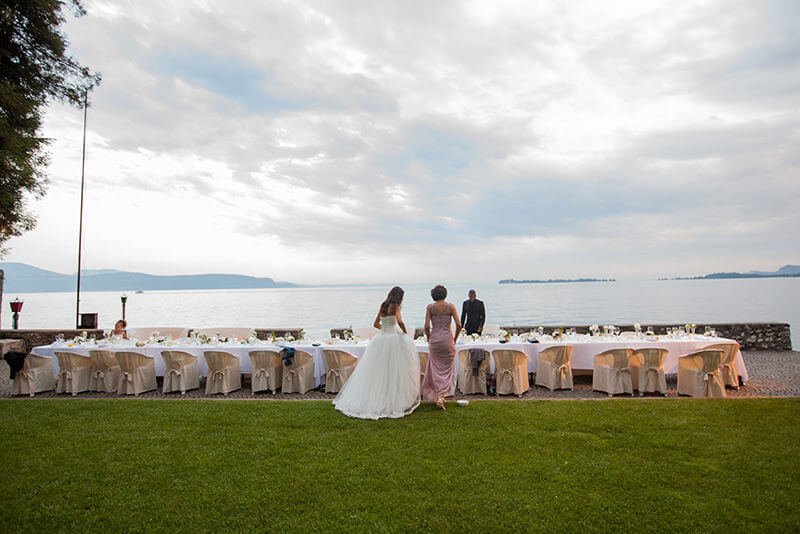 Huge thanks to Morlotti Studio Photographers who captured with such wonderful pictures this special wedding day on Lake Garda.