Have you ever wondered about throwing a spectacular fancy dress party? Well, our couple brought costume parties to the next level with their twenties themed wedding in Florence!
We are always up for themed wedding as their set-ups can be incredibly beautiful and are surely never foregone. It is so much fun getting involved in these events where every small detail has its own significate and it's never chose by chance. Besides, it makes your wedding much more cheerful as everybody would feel like going to a party. If you were thinking about a laid-back yet stylish event, this might be the perfect hint.
Taking part to Lisa and Fabian's wedding felt like being thrown back in the past right in the middle of Les anneés folles, when everybody wore fancy dress, jazz music draw crowds and great artists blossomed. Do Fiztgerald and his Gatsby sound familiar?
Feeling like you want to join yet?  Come have a look at what happened at Lisa and Fabian's wedding in Florence.
DRESS CODE; WHY IS IT SO IMPORTANT FOR A TWENTIES THEMED WEDDING IN FLORENCE
Considering the theme, the entire venue set-up and the dress code could only be really fancy and bright, so our wedding couple chose white and gold for their wedding palette. Vintage details were placed all around to make the guests actually feel the atmosphere.
First, an old Remington typewriter made the perfect detail to plunge into the twenties: after all, it would not be too hard to imagine Firtzgerald writing with one of those. Then, the escort cards were a bookmark with the name of each guest for them to keep and bring back home as a memory of the day. They were arranged in ancient books on a coffee table next to the dining table and embellished with a golden hanging tassel to make them suit the theme. Of course, the mise en place was entirely white with sparkling gold details that stand out. The centerpiece was a series of white roses bouquets with white petals sprinkled all around and various crystal chandeliers that lighted up this magnificent twenties themed set-up. Do we need to say what color and style the menu was?
Indeed, Lisa and Fabian's wedding dress code was strict. All guests were actually pleased to take part in this cheerful revival of the twenties and happily get into the part.
In fact, you do not often get the chance to get dressed up like that for a themed party, do you?
All the ladies went crazy about the bright paillettes dresses and the fancy headbands! And feathers too, why not? Gentlemen on their side looked absolutely stunning wearing their polished lace-up shoes, bow ties and elegant suspenders. The final touch? A wide-brimmed hat!
Our couple stand out among them all. Lisa was jaw-dropping in her total white lace and tulle dress. Her long black hair was framed by a precious flower crown and a long bridal veil. White, of course. As to Fabian, he was just as stunning. Black suit, white shirt, bow tie, suspenders and matching white hat; he missed nothing to play the perfect twenties' gentleman.
Have a look at the pictures; you can tell by yourself that dress code is actually a keyword in this twenties themed wedding in Florence.
GETTING MARRIED IN FLORENCE'S COUNTRYSIDE
Florence and its surrounding countryside are certainly among the most wanted wedding destinations in Italy – I think we all agree here. What's always baffling about Tuscan hills is that no matter how many times you have been there and how many different locations you have visited, they never cease to amaze. If you wish for more hints about getting married in Florence, come have a look at our Tuscan romance article.
This time, we are going to talk about a stunning villa located just outside Florence and surrounded by unspoiled nature: Villa Le Piazzole.
As many other residences around this amazing city, Villa Le Piazzole was once home to a noble Tuscan family who loved to live in the quietness of its vineyards at the city's gates. It preserves all typical features of a noble countryside residence; a beautiful Italian garden right in front of the front façade enriched by original statues and a fully restored aristocratic chapel. Other facilities have been added to suit nowadays guests' expectations, such as a swimming pool and large convivial areas to enjoy the view on the surroundings.
To make the most out of their time, our couple decided to get the entire villa just for them and their guests for the entire weekend.
Because of this, they had the chance to get involved in an exclusive pizza party at the villa. In fact, this beautiful residence in Florence's countryside recently fixed an ancient wooden oven that was once used to bake bread. Now, they have fun organizing actual pizza cooking class, where all guests have the chance to make their own pizza while supervised by an expert cook. That's precisely how our couple and their guests chose to spent the evening before the wedding.
How good does this sound? Told you, Lisa and Fabian could not choose any better venue for their special day.
TWENTIES THEMED WEDDING CEREMONY OVER FLORENCE'S COUNTRYSIDE
Here it comes the longed-for moment. When everyone takes place at their seats and eagerly waits to see the bride walking towards her beloved one. Lisa and Fabian chose the spectacular side garden of the villa for their wedding ceremony. It's a wide area that offers a stunning panorama over the surrounding countryside; the perfect spot to say I do.
To reach her future husband, Lisa walked through the beautiful Italian garden with her lovely bridesmaids always by her side and once she reached the ceremony area, the couple surprised everyone: Fabian reached to Lisa and they both walked down the aisle together.
Waiting for them at the altar stood our talented professional celebrant: she made the perfect ceremony speech by creating customized texts about the couple, catching everybody's attentions. In the meantime, a skilled duo of musicians created the perfect atmosphere all around with their music.
WEDDING DINNER IN THE THEATER
This is probably the most cheerful moment, when the tension is low and all emotions had been released. The keyword here is: to enjoy.
After a cool aperitif in the pool area with typical Italian deliciousness, everyone moved to the wedding dinner area, a marvelous eighteenth-century theatre that had been carved on the side of the hill. It made the perfect location where to arrange such a fine twenties themed wedding dinner.
A loose white curtain with several hanged bulb lights placed just above the long imperial table created an intimate area for the wedding dinner. Besides, it made the perfect spot event for the wedding couple first dance as all guests could enjoy the moment while seated on a more than 300 years-old site.
As to the wedding table, the couple decided to give an extra personalized touch to the mise en place by using candy vintage tins as placeholders. What's striking about this? Well, those were not just mere candies, but Pastiglie Leone, well-known Italian candies originally designed for the Italian royal family. Plus, the couple chose to customize them with the figure of two dancing girls to fit in the twenties' appealing. Pretty chic, don't you think?
Eventually, the cake cutting spot was arranged in front of the villa's main façade to enjoy all the areas the villa could offer. The guests tasted a delicious Millefoglie cake and had the last posed pictures before getting loose and party late into the night.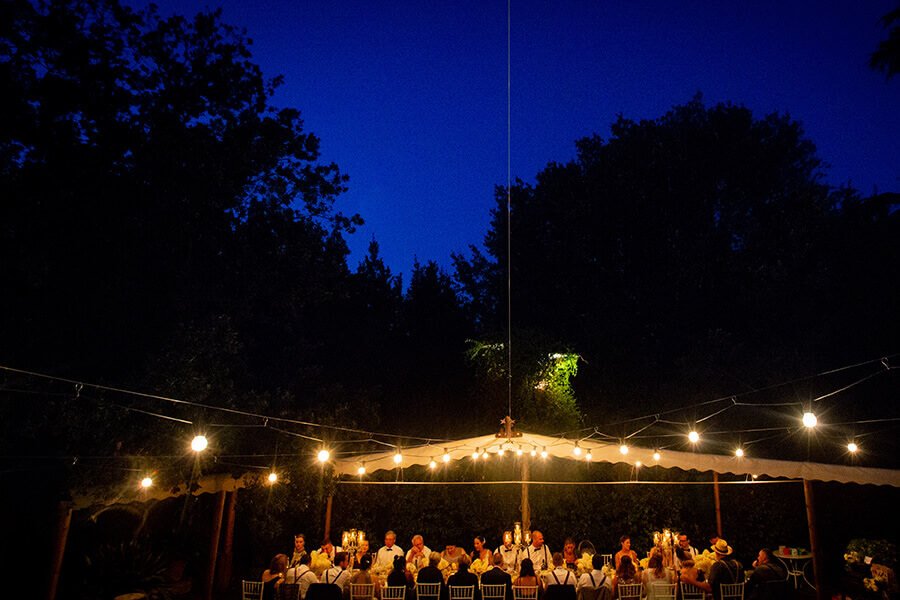 THE PARTICULARS
Photography and video by Morlotti Studio Padova
Florals by Dario Benvenuti
Lighting and music by Alma Project
Catering by La Buona Tavola Firenze
Wedding Venue Villa le Piazzole