So congratulations, you're engaged! Getting married is such an exciting time in your lives. If your dream has always been a fun and distinctive destination wedding in Italy, to help you get started off on the right foot, I'm sharing a few of my top tips that I've picked up over my many years of planning weddings and events in Italy.
1. Why choose Italy?
Italy is a country with beautiful sceneries. Our clients love it for its food, its weather, its nature, its mood and lifestyle and generally for the funny attitude of the Italians.
Italy is the ideal destination for couples that are looking for a unique setting where they can feel like in a movie. Italy is perfect for who wants to get married with style having a particular attention to the quality of the food. Italy is an ideal location both for those who wish a small and intimate wedding in a Medieval hamlet or in a private country house in the vineyards and for those who want a sumptuous big wedding; many cities such as Rome and Venice can offer antique Castles and old palaces which could host big parties in a charming frame and the possibilities for small enchanted venues are literally endless. A destination wedding in Italy is so special for the variety of landscapes and scenarios! Its regions are all so different and each with distinctive and very typical features. You can celebrate on top of the mountain, or by the sea, on a lake or in the heart of an ancient city. I always suggest to think about the type of guests you are going to have at your wedding when choosing a destination wedding. Some locations in Italy are difficult to be reach and sometimes you cannot call a taxi in the middle of the night because in some small villages and in the countryside there aren't taxis available. A wedding planner can definitely be crucial to give you all the most appropriate suggestions and to consider and arrange all these aspects in good time.
Your guests will remember the food, how they were treated, and the ambiance of the party, so focus on those aspects of the day and on the mood you are looking for. And finally, try to get away from the stereotype of Italy and Italian locations! Italy has so much to offer and even if many couples are attracted to the well-known destinations such as Tuscany, Sorrento and Lake Como and Garda, you can also choose some absolutely spectacular and unexpected venues that offer a magical and unique frame together with an even deeper dive in the Italian traditions, life style and high quality food.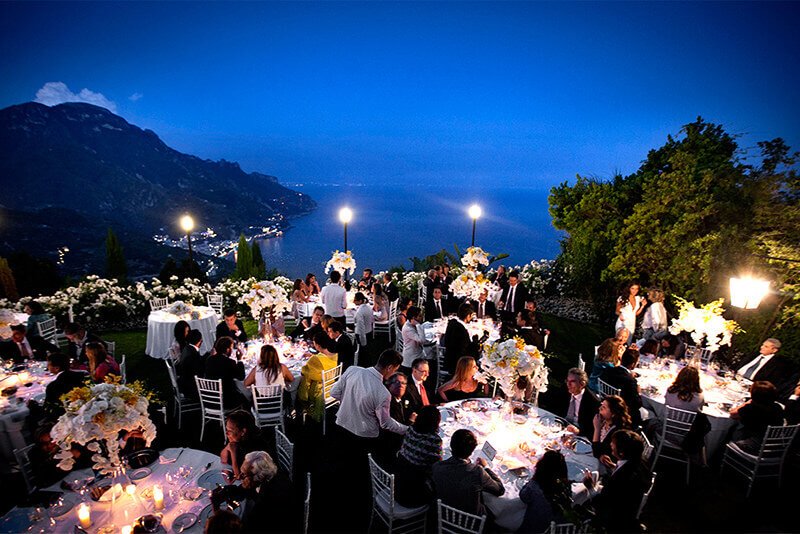 2. Hire a wedding planner on the spot
This is so, so important! …and not only because I'm a Wedding Planner 🙂
Organising a wedding, especially if abroad, is a very demanding job, I know how important it is that all details are taken care of and how difficult it is sometimes to find the right support to fulfil your specific needs. A wedding planner can be a real lifesaver for ensuring every last detail is covered leading up to your wedding day. This will ensure that you can relax and know that everything will flow as you wish on your big day.
Organization is the key to being able to fully enjoy your wedding. A Wedding Planner can help you to do everything you can on the right time and prior to your wedding day so you can sit back and relax the day-of.
Language barriers and lack of knowledge of the area can be a stumbling block so it could be crucial to choose a professional wedding planner to get the best from your destination wedding in Italy. A professional wedding planner will have a vast knowledge of the area and will provide the very best team of suppliers. Style A Wedding is at your side to advise you on everything from logistics to bureaucracy and more we can offers a full tailor made décor and styling service. From region to venue, from colour palette to food, Style A Wedding team is expert on the essence of all is Italy and in arranging your dream Italian destination wedding. You shouldn't need to fill your cases up with decorations, leaving no room for your beautiful dress; you shouldn't have to be worrying about the logistics of your event and whether or not you have chosen a good supplier…so leave this to the professionals, sit back, relax and enjoy!
3. Be flexible on the date if possible
Unless you do not have a date linked to some particular event in your life, like an anniversary, then be flexible on the day of the week or time of year for your wedding. Saturdays tend to be in great demand here in Italy and also the most expensive while weekdays are less in demand so it is easier to find availability and save money. Fridays are a great choice if you want to spend few days with your guests in a more days long celebration, so as a wedding on Sunday can offer a perfect way to wrap up a few days spent relaxing and enjoying a short Italian style break.
4. Keep it manageable for you and your guests.
If the guest list has extended to an overwhelming number, scale back. Doing so will allow you to celebrate with your nearest and loved ones to the fullest potential. Then choose the ideal number according to the type of celebration you have in mind, and divide the list of your guests in 3 parts:
my loved ones and those who I absolutely want at my side;
suggestions from the parents and those who should be invited as courtesy;
I invite them if there's room…
Send out 'Save the Date' cards as soon as you can so that you can allow your guests the chance to include your wedding into their holidays.
Then another must-do in your book should be to secure a room block for your guests, because planning a destination wedding is much easier when everyone is staying at the same place. If your wedding is at a luxury hotel, I suggest securing a room block at a more affordable hotel nearby. It's always nice to have a couple of options for all your guests and the different budgets.
Think about the type of guests that will attend at the wedding in order to give them the right and most appropriate service. If you think that your guests need all sort of amenities around them, it is better to choose a lovely hotel which can offer all the services, prefer a farm house or a private villa if you think your guests love relaxing and casual mood. A welcome bag waiting for them in their hotel room could be an additional and very cute idea to make your guests feel pampered! Fill it with small treats like a map, some tasty treats typical of the place where you're getting married, and travel guides/information. Finally, your guests may experience jet-lag, so plan your welcome party and any other celebrations accordingly!
5. Take moments for yourselves and enjoy your Italian days.
Now that all is planned and your guests are comfortably accommodated in their rooms, take your time in order to get as relaxed as possible to your Big Day. I never advise arranging any big crazy events for the night before the wedding and I also suggest a little alone time with hubby to be. Maybe a relaxing afternoon at the local beach club or spa and if this is not possible then try to arrange a night or two together in a lovely hotel once all your guests have left. That's Italy and we are very able to suggest a lot of ways to enjoy life, so have fun! This day is for celebrating and you are marring the love of your life in the most beautiful country! That's pretty special.
THE PARTICULARS
Pics n. 1-7 captured by Morlotti Studio 
Pic n. 8 captured by Luca Fazzolari
Pic n. 5 Stationery by Lara Bellardi
More tips? Contact us to discover that to get married in Italy could be your handy dream