Chiara e Giulio had rented a fairytale ancient mill on a river for their intimate wedding in Venice countryside.
And certainly they must have thought that there was no better venue to celebrate their new life having so many close family and friends together in a place so whimsical and full of charm.
A wedding celebration filled with organic elegance and delicious food in a laid-back setting. A sunny spring day full of details and so much love that produced a wedding that exceeded even the brightest expectations!
There are so many elements about this wedding that we love, starting with the al fresco aperitif in the courtyard under the green pergola; even from outside, this venue strikes you with its charm that seems suspended in time thanks to the large mill wheel moved by the flow of the river; inside the eye is caught by a thousand details and an atmosphere of times gone by, rich in colors and flavors, welcomes you and pampers you like in a magical dream, leaving us breathless.
We can't think of a nicer and more welcoming way for your favorite people to celebrate your union.
Every single moment and detail of this enchanting wedding day was captured with elegance and style from Morlotti photographers that we thank for these beautiful wedding reportage.
A COUNTRY WEDDING IN VENICE GARNISHED WITH LOVE
Chiara wore a delicate white wedding gown with pockets designed by Jesus Peiro (I already told you of my passion for the wedding dresses with pockets, right?) and completed with refined elegance by the original Anniel ballerinas and the bouquet of roses and lilies of the valley, by DIANTHUS Flowers Treviso.
Giulio, in his blue tuxedo adorned by a delicate buttonhole of lilies of the valley and ivy, appeared completely in love with his beautiful sweetheart.
It will be impossible not to feel fascinated by their complicit glances, laughter and tears. To have a look at the whole wedding reportage click here: ENTIRE REPORTAGE
In a wedding reception filled with whimsical and fairytale details their love was the icing on the cake! In Italy we say "the cherry on top".
…and so what a better idea of using cherries as wedding décor detail for a country wedding in Venice if you choose to get married in May? To use seasonal flowers and fruits is the best and prettiest solution for a country wedding …and then fill it with candles, old tables and linen, metal plates and glasses, old objects and possibly a romantic mill on the river! Can you imagine a most romantic frame for the celebration of your love?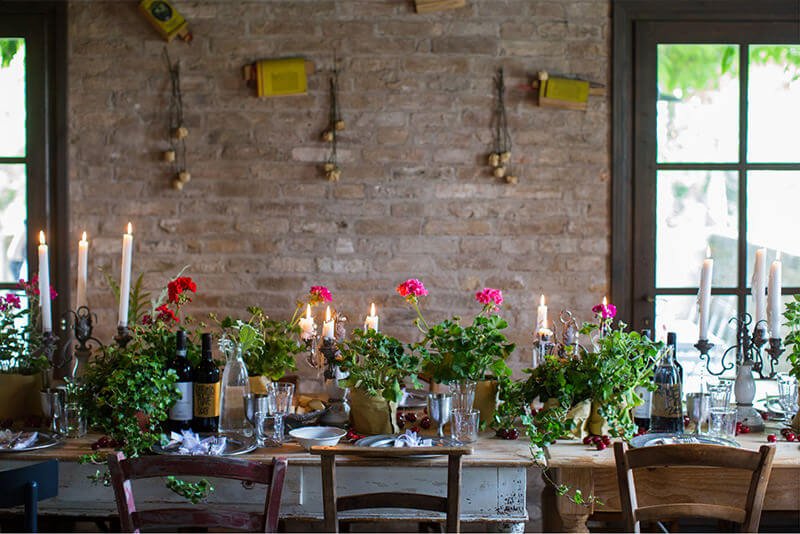 THE DETAILS:
Photography: Morlotti Studio Padova
Bridal Wedding Dress: Jesus Peiro
Bridal Shoes: Anniel