When Erin contacted me and started talking about the look and feel she desired for her wedding I could tell she had amazing style and wanted something unique for her Ravello Wedding. Amalfi Coast is one of the most requested locations for a destination wedding and many couples chose to get married here every year so the idea we could create something different aroused me at once.
She wanted everything to showcase her and Kris' personalities from her dress, the flower decorations, the location and highly focused on making it romantic and as intimate as possible. I think we did that.
Ravello is a hidden gem and known as the most "magical" place ever.
Erin and Kris knew they wanted a breathtaking scenario for their wedding telling about their love for nature as well as their love of travels. So they definitely loved the authentic and poetic vibe of Ravello village on the Amalfi Coast and the charm of their wedding venue Belmond Hotel Caruso overlooking the gulf.
The wonderful scenery with the deep blue sea and the mountains all around and the beauty of the village definitely made them fall in love with this place. Ravello is a romantic and very special poetic place. It is also still very authentic by its people and traditions.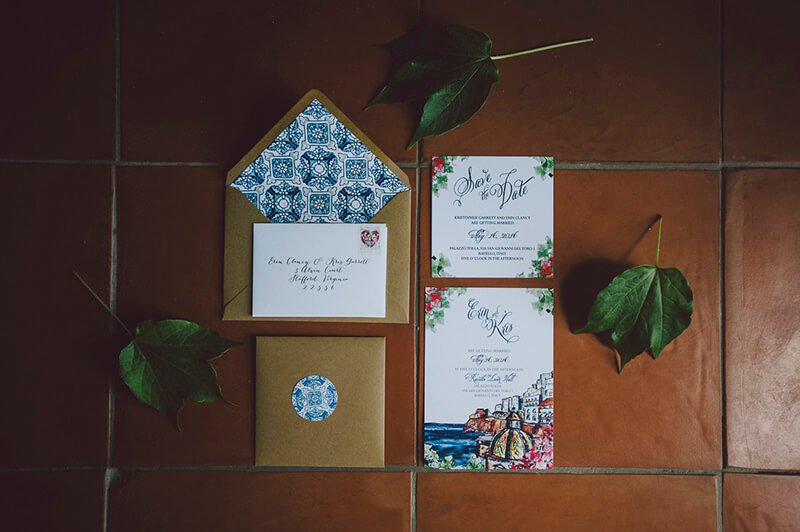 The intimate civil ceremony 
The beautiful young couple exchanged vows in front of few loved ones in the quaint frame of the alleyway of the old Ravello Town Hall. I suggested this venue for the civil ceremony because, even if it is chosen infrequently, I think it's perfect for an intimate and secluded ceremony.
The bride, accompanied by her father and guitar and mandolin sound, walked the few meters from her hotel to the ceremony venue; at the end of the blooming alleyway decorated with Persian carpets in bohemian style Kris was waiting for her with face wet from tears of emotion.
After the ceremony Erin and Kris took some wedding pictures in the beautiful frame of Ravello village, a perfect stage for awe-inspiring photos, sitting high as it is in the hills above the dizzying landscape of Amalfi.
A Ravello wedding dinner under the olive trees
Romantic, whimsical, and intimate have never been more appropriate words for a celebration as they are for Erin and Kristopher's Ravello wedding.
At Belmond Hotel Caruso the newlyweds shared a lot of laughter and a night of relaxed joy as Gianni Di Natale captured the blissful moments that made this intimate wedding so special.
Erin and Kris love the outdoors and breathtaking landscapes and were inspired by the natural beauty all around which is why they definitely desired to have the wedding dinner outdoors in the amazing gardens of the elegant Belmond Hotel Caruso.
Cloudy skies, blue water, and natural greenery created a lovely setting for this poetic Ravello wedding. For this lovely bohemian style wedding we designed a rectangular imperial table under the olive trees filled with a beautiful contrast of vibrant colors and golden cups and candlesticks.
Working with a color palette of burgundy, light pink, white and green, and with a mix of gorgeous flowers like tulips, ranunculus, peonies and celosia helped us put together a small but really particular dream Ravello wedding with bohemian inspiration.
The wedding dinner flowed in the frizzy hair of the night lit by candles and lanterns hanging from the olive trees and with the incomparable view of the Amalfi gulf.
We wouldn't have changed anything about this wonderful day, including the spectacular clouds that made even more dramatic these great wedding photos!
Italy is always one of the first places that come to mind when you think of destination weddings. We love to guide our couples in an incredible journey and ensure they have the best Italian experience, the most jaw-dropping views and most importantly that the wedding will reflect their own style.
Thanks to Erin and Kris who gave us this chance and thanks all our skilled collaborators who made it happen!
THE PARTICULARS
Planning and Wedding Design – Style A Wedding
Photographer – Gianni Di Natale
Flower decorations – Armando Malafronte
Wedding venue – Belmond Hotel Caruso
Hair and Make-Up – Silvia Gerzell